End the Electoral College -NOW!
Electoral Bait & Switch                                                           
How the Elect
oral College Hurts American Voters
And what can be done about it
by Bill Petrocelli
(Prometheus Books, August 2020)
to preorder a copy of the book, click here
Every four years a disaster-in-the-making hovers over the nation, waiting for a chance to undermine America democracy and deprive people of an equal vote. Electoral Bait & Switch shows the harm that the Electoral College does to our nation and what can be done to stop it.
"There's work to be done to change the Electoral system. And the place to start is with this book."
(former Senator Barbara Boxer from the Foreword)
The Current, Distorted Version of the Electoral College Has to Go!
The 2016 election result was not the way the Electoral College was supposed to work. Alexander Hamilton, James Madison, and the other drafters of the Constitution would be appalled at the way it has resulted in minority rule.This is not the way it was supposed to work.
The current system is a rogue ship that set out years ago from its original anchorage in the Constitution. It is now floundering—unable to go back to its 18th century moorings but equally unable to reach the safety of the equal-rights amendments enacted since then. It's a ship that's ready to sink.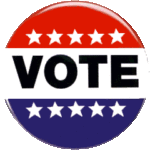 This five-part series of articles summarizes the problems with the current Electoral College and suggests some of the ways that it can be changed or eliminated.
The Electoral College is Unfair & Dangerous
There's some guy in Wyoming whose vote is worth three times more than mine. This has been going on in every presidential election for my entire life, and I'm sick and tired of it. How does this happen? It's because of the way the Electoral College has been rigged to work. It takes about three times as many votes to elect an Elector in California as it does to elect one in Wyoming.
This is a blatant form of voting discrimination, and the sooner it ends the better.